VHFCN
POST EXCHANGE / BASE EXCHANGE
For the BEST in Aviation Art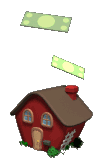 ---
Check out these models - WOW! Great details - decent prices. They'll even do custom ones for you. Send them pictures of your ship and they'll replicate it. Cool Beans!
---
Do you need a certificate of service for your Hero wall? How about a banner for your unit reunion. This x-marine is great with graphics and creates 1st class products....check it out..............
---
National Vietnam War Museum
The museum US Army Aviator wings are cast of 2024 aluminum from melted
Cobra and Huey fuselages.
Length; 18 inches, Height; approx. 4 3/4 inches, Thickness approx. 1/3rd inch.
The wings are treated to appear as subdued combat wings
Crewmember wings also available.

https://www.fwcvhpa.org/MuseumOrder.htm
---
---
WEBMASTER APPROVED BOOKS
---
Here's our latest addition! Penned by another LilSis!
KILLED IN ACTION
HE CONTINUES TO HEAL OTHERS
Faced with a life-threatening health problem, Stephanie Hanson needed a biological family medical history. Adopted as an infant, she never knew her birth parents. During a relentless search through tangles of government red tape, she learned her father, a Navy Hospital Corpsman, was killed in a Marine Helicopter crash in Vietnam two months before she was born. Young and alone she needed answers only the military establishment held and was reluctant to reveal to a civilian. Undaunted and obsessed, she pushed on with the tenacity of a bulldog and repeated her questions over and over in frustration as they steered her from office to office down the "yellow brick road." Unexpectedly, at a key moment everything suddenly changed, and the Marines took her in wholeheartedly as one of their own when they learned her father was a Corpsman killed in combat. They gave her helpful information about her father and provided links to his past. Four and a half years into her quest, Stephanie Hanson not only obtained the cold statistics she needed, but felt close to a father who served his Country heroically. While attending a large helicopter organization's reunion, a three star U.S. Marine General arrived and proudly presented her with the Air Combat Wings her dad earned, and desperately wanted, but never received.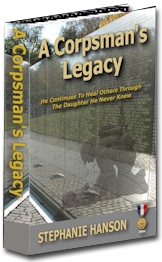 "There is no person more respected and loved by Marines than their "Doc" - their Corpsman who shares the hardship and misery of combat to save Marine lives, sometimes sacrificing their own. Stephanie's dad is a true hero to all of us who wore the Marine uniform."
--LtGen Michael A Hough, USMC (Ret), Former Deputy Commandant for Aviation
"Read this book and learn of a daughter's love and commitment to honor her father, who gave his last full measure of devotion to his country in a far off land long ago."
Senator John McCain
This compelling story is told with great care and compassion to honor not only her father, but also all those who touched his life and made a difference in the military. "A Corpsman's Legacy" is taken from the notes she wrote as she lived through her search and is a book you will treasure forever. Note: Importantly, too, as Stephanie searched for her father's background and history her medical condition vanished, to the astonishment of her physicians, with all symptoms gone. They cannot logically account for the healing. Those who come into contact with Stephanie, also feel the power of the healing force.
Leatherneck Publishing publishes "A Corpsman's Legacy", in Oceanside, CA. It is available directly from http://www.leatherneckpublishing.com, or your local bookstore. Dealer discounts offered through Ingram Books and Baker &Taylor.
You may contact the author, Stephanie Hanson, via email at corpsmankid@hotmail.com
Order from here! http://www.acorpsmanslegacy.com/index.htm
---

by Al Billings
Publisher: BookSurge Publishing
ISBN: 1-59457-299-2
Binding: Trade Paper
430 pages also in "E-Book"
MWSA Book Review
Author: Al Billings
Publisher: Booksurge
Reviewer: Bill McDonald – President of the MWSA
A Navy Maverick With True Grit!
Seldom do I ever read a military aviation book where I come away thinking that I would have really loved to have flown with the author of that memoir. Author Al Billings is a veteran's veteran! He is a man among men. It was men like Al that made flying in Hueys the heroic aviation adventure it was. His book "Seawolf 28" explodes with energy and action and much more. His personality certainly comes shinning through and shows him for whom he was.
Billings was awarded over 40 medals and citations including the Silver Star and The Distinguished Flying Cross. He was a member of the Navy's most decorated helicopter attack squadron in the Vietnam War. I have met several members of the Seawolfs when filming the documentary film "In the Shadow of the Blade." You could not find any better group of honorable men for sure. It is not surprising to read how well they did in combat. This book not only honors the role of the author but also adds to the almost myth like tales of those fine young men.
The book is well written and is a great read. I admit that the last chapters in the book were not the way I would have liked to see it end for the author, but Billings is true to himself all the way to the end and shows a lot of class. When you finish reading his book you will be left with many emotions about the war, the men, leadership in the military and what it means to stand up and be counted when someone has to be accountable and honest. Al Billings is a true leader in the real sense. I think most veterans will agree that he would be the guy that you would like to have had in the pilot's seat on your flight!
This is a must read book and receives the MWSA's HIGHEST RATING – FIVE STARS!
*The great book cover is by award winning Vietnam veteran artist Joe Kline.
(Joe Kline's website: www.joekline.com)

---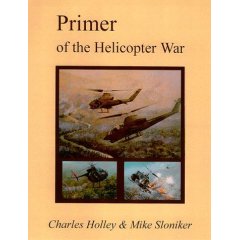 Another
Joe Kline Cover!
Primer of the Helicopter War by Charles Holley & Mike Sloniker
From the publisher:
Unlike other history books written about the Vietnam War, this book was written with
helicopters and their crews as the main focus . . . and, it was written by helicopter pilots.
Charles Holley flew scout helicopters in Vietnam and is the author of the
highly acclaimed Bantam War Series book, Aero scouts. Mike Sloniker flew slicks and is
widely-known as a Vietnam War historian. Together they have put together a
highly-informative book, filled with first person accounts and photographs, that has no
equal. The chapters in the book follow the events of the Vietnam war chronologically, and
include the roles played by helicopters in each of the major battles. If you crewed a
helicopter in Vietnam, this book is a must have!
 

From the Webmaster

This is OUR book.  Loadhacker and Holley pulled many many emails from the early days
 of VHFCN.  Check it out, you might be in it!  I did and I am!
---
Pilots live by a code of honor. They assist other pilots and help the troops in the battlefields. They ride into battle, strike the enemy, and ride out. Like the knights of old, the helicopter pilots of the Vietnam War were the Templars. Their steed — the helicopter — wore the armor that was little more than a shell of aluminum-magnesium that had an affinity for fire and burned like a sparkler once ignited. The war left an impression on every soldier who served in Nam. It is only now that these veterans are willing to share their memories with others. Time has healed some. And some soldiers can even find some humor when recalling the terrifying events of the war that forever tainted their youth.

This book is one helicopter pilot's memories of being in flight during combat. He was one of many, who went from a civilian, to a soldier, and then back to civilian life. The author uses humor to lighten his story and the hearts of his readers, and it works.
---
Angel's Wing:




An Year in the Skies of Vietnam


Joseph R. Finch
ISBN 0-910155-45-3 • $16.95

Elephant's Ear. Dog's Head. Angel's Wing. These names evoke the image of children playing a whimsical game, identifying objects in the clouds.

But for Joe Finch and his fellow helicopter pilots of 25th Aviation Battalion, they meant something vastly different: They were the shapes created by map coordinates that defined their location within the "area of operation."

Angel's Wing is Joe Finch's account of the year he spent with A Company, the "Little Bears" during the Vietnam War. His story is raw and authentic, unflinching in his honesty. Sometimes his tale is humorous. Sometimes it's tragic. Whether he writes of a preposterous moment or of brutality and death, his personal account is powerful. If you weren't there, at times his experiences in Vietnam are hard to imagine: the blood, the noise, the smells. At other times, you will open your eyes in wonder at the dedication that the young men fighting there demonstrated.

Finch arrived in Vietnam in 1969 as a young, naive lieutenant. His flying skills were untested. The task before him was unknown. But almost from the moment of his arrival at the forward base at Cu Chi, Finch began to learn what would be required of him.

He would learn to fly under the most difficult of conditions, straining the limits of both the pilots and their machines. He learned to support ground troops, inserting and extracting men into and out of the most dangerous of situations.

And he learned the importance of medical evacuation of the wounded--the Medevac--in saving soldiers' lives. He made it his personal mission and his most significant achievement. It is in this task that Joseph Finch exhibited the compassion and courage that make Americans proud of his service to our nation.

Joe Finch's unforgettable story is very personal, yet reveals something larger: a glimpse into the character of many who flew in the skies of Vietnam.

---
Rattler One-Seven: A Vietnam Helicopter Pilot's War Story

By Chuck Gross NOW IN PAPERBACK!

ISBN: 1-57441-178-0 cloth $27.95

6 x 9. 248 pp. 26 b&w photos. 2 maps. Glossary. Notes. Bib. Index.

Number One: North Texas Military Biography & Memoir Series

Publication Date: August 2004
Rattler One-Seven puts you in the helicopter seat, to see the war in Vietnam through the eyes of an inexperienced pilot as he transforms himself into a seasoned combat veteran.
When Chuck Gross left for Vietnam in 1970, he was a nineteen-year-old Army helicopter pilot fresh out of flight school. He spent his entire Vietnam tour with the 71st Assault Helicopter Company flying UH-1 Huey helicopters. Soon after the war he wrote down his adventures, while his memory was still fresh with the events. Rattler One-Seven (his call sign) is written as Gross experienced it, using these notes along with letters written home to accurately preserve the mindset he had while in Vietnam.
During his tour Gross flew Special Operations for the MACV-SOG, inserting secret teams into Laos. He notes that Americans were left behind alive in Laos, when official policy at home stated that U.S. forces were never there.
He also participated in Lam Son 719, a misbegotten attempt by the ARVN to assault and cut the Ho Chi Minh Trail with U.S. Army helicopter support. It was the largest airmobile campaign of the war and marked the first time that the helicopter was used in mid-intensity combat, with disastrous results. Pilots in their early twenties, with young gunners and a Huey full of ARVN soldiers, took on experienced North Vietnamese antiaircraft artillery gunners, with no meaningful intelligence briefings or a rational plan on how to cut the Trail. More than one hundred helicopters were lost and more than six hundred aircraft sustained combat damage. Gross himself was shot down and left in the field during one assault.
Rattler One-Seven will appeal to those interested in the Vietnam War and to all armed forces, especially aviators, who have served for their country.

"Exciting reading! Chuck Gross vividly tells the dramatic account of being a combat helicopter pilot in such a way that you feel you are there. Gross sets the story of combat aviation with a graphic backdrop of chaos and carnage. Rattler One-Seven is a compelling memoir of what it was like to fly combat helicopters in Vietnam. It is a must-read for all military and aviation enthusiasts."—Chuck Carlock, author of Firebirds

"Chuck Gross's book tells exactly what it was like to fly a Huey slick in combat in the Vietnam War. The only things missing are the smells of gunpowder and the incredible noise as he takes the reader on combat assaults into hot landing zones."—James Joyce, author of Pucker Factor 10

"As a helicopter pilot with combat experience in Vietnam, I could readily relate to Gross's experiences—several of them had the hair on the back of my neck standing up! Rattler One-Seven will make an important contribution to the Vietnam War literature. There's nothing else like it out there."—John F. Guilmartin, Jr., Lt. Col. USAF (Ret), and professor of history, Ohio State University

Chuck Gross was an Army helicopter pilot in the Vietnam War from May 1970 through May 1971. He logged more than 1,200 hours of combat flying and achieved Senior Aircraft Commander status. After the war he became a commercial pilot and recently retired from American Airlines as a 767/757 Captain. Gross is also an instructor in the martial arts and has published a self-defense video course. He lives in Gallatin, Tennessee.
---
The Last Hookers:
From Nazi Germany to Viet Nam They Lived, They Loved, They Died

Carle E. Dunn William Atkinson (Illustrator)

Our Price: $32.95
Readers' Advantage Price: $29.66 Join Now





Write your own Review
10 other customers have reviewed this book. Average Rating:
Read what other customers have said





Synopsis
Colonel Dunn brings to life worldwide events that led America to Viet Nam. From President Truman to President Nixon, he shines light into dark corners of the Central Intelligence Agency, the National Security Agency, and the White House. Based on fact, he traces events from Germany, Japan, Great Britain, France, North and South Viet Nam, and the United States that made America's involvement in Southeast Asia unavoidable.

Follow Legionnaire Jean Danjou as he places navigational beacons for American B-29s to drop atomic bombs at the Battle of Dien Bien Phu. Learn fearsome events that put the United States a word away from atomic attacks against Communist China and the USSR 19 times. Frederick Earling shows the CIA fighting a decades long, secret war in Laos. Lanny Briscoe reveals the NSA's role from World War II to Viet Nam.

The Last Hookers puts you in cockpits with Army aviators throughout battles in Viet Nam. Fly with the 362nd Aviation Company as it fights North Viet Nam's most intense effort to capture Saigon. North Vietnamese forces poured into the country only 60 miles from Saigon. With 120,000 Infantry and 1200 armored vehicles, their intent was to establish a Communist Capitol in South Viet Nam. Colonel Dunn had the only heavy lift unit remaining in country. It lay directly in their path.
---
Thunderbird Lounge
In Stock:Ships within 24 hours.
Robert Brandt, James D. Delk (Editor) / Paperback / Trafford Publishing / November 2001

| | | | |
| --- | --- | --- | --- |
| 1. | | | |
---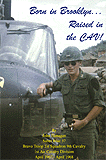 by John E. Flanagan
ISBN: 1-4010-4012-8 (Trade Paperback)
ISBN: 1-4010-4013-6 (Hardback)
ISBN: 1-4010-4014-4 (eBook)
Pages: 238
Subject: BIOGRAPHY & AUTOBIOGRAPHY / Military
Twenty-one years after leaving Vietnam for the first time, the author attends a reunion of former pilots who flew helicopters in Vietnam. Reuniting with his classmates and some of his fellow pilots he flew with in Vietnam brings back a rush of memories and stories of times past. The following years´ reunions build on the first as more and more of the pilots he served with are reunited. The reunions stir memories and deeds of times past are recounted in a steady stream of war stories. He soon realizes that he doesn't want these stories -- these war stories -- lost and decides to write them down before he forgets the details. As the stories unfold more memories come back and he records them too. His intent was not to document the history of the US involvement in the Vietnam War, nor be a definitive history of the famous B Troop 1st Squadron, 9th US Cavalry Regiment. His intent was to record his personal memory of the events some 30 plus years ago from his perspective.

The life of a warrant officer candidate presented a number of challenges that needed to be overcome if his plan to beat the army system was to be realized. He tells of some of the more interesting incidents in his flight training and preparation for combat.

Things changed after earning his wings and arriving in Vietnam. Somewhere along the line the reality of the situation presents itself and John volunteers for the famous reconnaissance squadron of the 1st Cavalry Division. The 1st of the 9th was known for its ferocity in combat and its high casualty rate especially among flight crews. History records that this single unit was responsible for a large percentage of the entire division's enemy kills.

His description of some of the sights and sounds of life in B Troop will surely remind other veterans of their time in Vietnam. He will certainly stir the memories of others that served in the air cavalry and perhaps even others who were supported by them.


---