LastChange
01/04/2013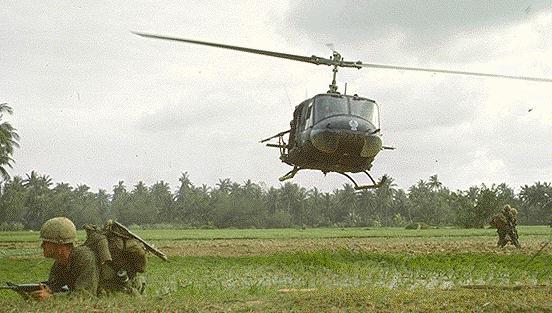 VIETNAM WAR HELICOPTER UNITS
If you don't find your unit, click here! (make sure you send me the url)
Air America

Americal Division Under the Southern Cross
B Co. 123rd Avn. Bn. Warlords
D Troop 1/1 Cav Dragoons
1st Aviation BrigadeFirst in Vietnam
HHC,1st Aviation Brigade First in Vietnam
12th Combat Assault Group
3/17th Cav
A Troop Silver Spurs (inop link)
B Troop Blackjack
C Troop
D Troop 3/5th Air Cavalry Light Horse
17th AHC Kingsmen,Lancers (inop)
18th CAC Green Delta
25th CAC Red Carpet
48th Assault Helicopter Company Bluestars, Jokers
57th Assault Helicopter Company Gladiators
57th Medical Detachment (Helicopter Ambulance) Dustoff
59th CAC Red Cloud
60th AHC Ghost Riders
61st Assault Helicopter Company Lucky Stars and Starblazers
62nd AML Outlaws, Mavericks
62nd CAC Royal Coachman
68th AML Top Tigers, Raiders
68th Assault Helicopter Company Top TigersRED-X'd
68th Assault Helicopter Company Top Tigers(Photos), Raiders
71st Assault Helicopter Company Rattlers and Firebirds
4/77th ARA
92nd Assault Helicopter Company Stallions and Sidekicks
114th Assault Helicopter Company Red Knights/White Knight/Cobras
116th Assault Helicopter Company Hornets / Yellow jJackets / Wasps / Stingers
117th Assault Helicopter Company Beachbums /Warlords / Annie Fannies / Pink Panthers / Sidewinders
118th Assault Helicopter Company Thunderbirds / Choppers / Bandits
119th Assault Helicopter Company Gators & Crocs
120st Assault Helicopter Company Razorbacks / Deans
121st Assault Helicopter Company Vikings - Soc TrangTigers
128th Assault Helicopter Company Tomahawks / Gunslingers / Witchdoctor
129th Assault Helicopter Company Bulldogs & Cobras
132nd ASH Hercules
134th Assault Helicopter Company Demons/Devils
135th Assault Helicopter Company Emus / Taipans
145th Combat Aviation Battalion
147th Aviation Company Hillclimbers


155th Assault Helicopter Company Stagecoach and Falcons
159th Assault Support Helicopter Battalion Liftmaster


159th Medical Detachment (Helicopter Ambulance)
161st Assault Helicopter Company Pelicans and Scorpions
162nd Assault Helicopter Company Copperheads & Vultures
170th Assault Helicopter Company Bikini's / Buccaneers
173rd Airborne Brigade Casper Aviation Platoon
173rd Assault Helicopter Company Robin Hoods & Crossbows
173rd Assault Helicopter Company Robin Hoods & Crossbows
174th Assault Helicopter Company Dolphins/Sharks
175th Aviation Company (AML) &nbsp Outlaws & Mavericks
175th Aviation Company (AML) &nbsp Outlaws
175th Aviation Company (AML) &nbsp Mavericks
176th Assault Helicopter Company Minuteman/Muskets
178th ASHC and 400 TC Company The Boxcars


179th Assault Support Helicopter Company The Boat Dock / Shrimpboats


180th Assault Support Company Big Windy

RED-X'd
187th Assault Helicopter Company Blackhawks, Crusaders, Rat pack
187th Assault Helicopter Company Blackhawks, Crusaders, Rat pack
188th Assault Helicopter Company Black Widows and Spiders
189th AHC & 604th Trans. Det. Ghostriders and Avengers
189th AHC & 604th Trans. Det. Ghostriders and Avengers
190th AHC Spartans, Gladiators
191st Assault Helicopter Company Boomerangs and Bounty Hunters
192nd Assault Helicopter Company Tigersharks and Polecats
192nd Assault Helicopter Company Tigersharks and Polecats
195nd Assault Helicopter Company Skychiefs / Thunderchickens / Ghost Riders
196th Assault Helicopter Company Flippers
196th Light Infantry Brigade Chargers
197th AHC Gangbusters, Playboys
200th Assault Support Helicopter Company Pachyderms


201st CAC Red Barons
203rd ASH Wildcats
205th Assault Support Helicopter Company Geronimos


213th Assault Support Helicopter Company(Numba2) Blackcats


213th Assault Support Helicopter Company(Numba2) Blackcats

RED-X'd
235th AWC Delta Devils
238th Aerial Weapons Company Gunrunners
240th Assault Support Helicopter Company Greyhounds/Maddogs/Kennel Keepers
LZ ofthe 240th AHC
242nd Assault Support Helicopter Company Muleskinners


243nd Assault Support Helicopter Company Freight Train

RED-X'd
271st Assault Helicopter Company Innkeepers & Bartenders
272nd ASH
273rd HH Super Hook
281st Assault Helicopter Company Intruders, Ratpack, Bandits, Wolfpack
281st Assault Helicopter Company Association Intruders
282nd Assault Helicopter Company Blackcats, Alley cats
334th AWC Sabers, Playboys, Raiders, Dragons
335th Assault Helicopter Company COWBOYS, Falcons
336th Assault Helicopter Company WARRIORS, Thunderbirds
355th HH Workhorse
361st Aviation Company (Escort) Pink Panthers
362nd Aviation Company Fly United!


478th HH Hurricane
1st Aviation Battalion,1st Inf Div: Above the First
1st CAVALRY DIVISION Association.- & The FirstTeam!
Silver Wings of the CAV Newsletter
1st Bde, 1st CAV The Flying Circus


1st of the 9th CAVALRY, 1st CAVALRY DIVISION (Airmobile) Bullwhip Squadron


A,1/9th Apache Troop


B,1/9th Bravo Troop


C,1/9th Charlie Troop


E ,1/9th Echo Troop


F,1/9th F Troop


11th Aviation Group
E Battery (Aviation),82nd Artillery 1st Air Cavalry 1965-1966

2/20 ARA 1 CAV & F/79 CAV --- BlueMax

A Btry
B Btry
C Btry
Bty F/77th ART
Bty F/79th ART
227th Assault Helicopter Battalion Pouvoir
HHC
Alpha Company Chickenman
Bravo Company - The Good Deal Company
Charlie Company - Ghost Riders
Charlie Company - Snakes
D Company El Lobo
228th Assault Support Helicopter Battalion WingedWarriors(1)


HHC
A Company Wildcats


B Company Long Horns


C Company "What more can we do?"


Guns-A-Go-Go (Jim Ketcham's site)


Guns-A-Go-Go ( Frank White's site)



229th Assault Helicopter Battalion Winged Assault
A Company Load Hackers
B Company &nbsp Killer Spade
C Company
D Company Smiling Tigers


478th Aviation Company (Heavy Lift)
7th Armored Squadron 1st Air Cavalry Blackhawks

1st Infantry Division,1st Aviation Battalion Big Red One

1st Infantry Diviaion 1/4 Cav Quarter Cav
1st Inantry Division, A Troop, 1st Squadron/4th cavalry Quarterhorse
1st Infantry Division, D Troop (air) 1st Squadron, 4th Cavalry Darkhorse / Mustangs
F Troop (Air) 4th Cavalry Centaur
H Troop/ 10th CAV, RVN 1972
4th Infantry Division 4th Aviation "The Ivy Division" Blackjacks and Gamblers
F Troop - 8th Cav Blueghost
F Troop - 8th Cav Blueghost site#2
9th_Avn_Bn_9th ID

Air Cav Troop 11th Armored Cavalry Thunderhorse

A trp. 2/17th Air Cav. Assault
B trp. 2/17th Air Cav. Banshee
3/17th ACR Association
C Troop (Air) 16th Cav Darkhorse
D Troop - 3/5th Cav & C-Troop 3/17Cav --
7/17th Cav RUTHLESS RIDERS

25th Aviation Battalion
25th Infantry Division,D troop 3/4th Cavalry Centaurs

3rd/4th Cav 25th Inf. Div. Centaurs

52 Avn Bn and 119th Avn Co Dragons
52d CAB & Camp Holloway Assoc.. Flying Dragons
57th Medical Detachment "DUSTOFF!"
D/101st Assault Helicopter Battalion Hawks

101st Airborne Division (Air Assault) Screaming Eagles
101st Airborne Division Association ScreamingEagles
A Company, 101st COMANCHEROS!
B Company, 101st KINGSMEN!
C Co 101st Aviation Black Widows and Spiders
D Co 101st Aviation HAWKS
A Co.158th Avn. 101st Abn. Ghost Riders
B Co.158th Avn. 101st Abn. Lancers
C Co.158th Avn. 101st Abn. Phoenix
HHT, 2nd Squadron 17th Cavalry


A Troop 2/17th Cav Assault
B Troop 2/17th Cav Banshee
C Troop 2/17th Cavalry Condors
390th Transportation Detachment
478th HH Hurricane
498th Air Ambulance Company
A/501st Aviation Battalion RATTLERS and FIREBIRDS
539th Transportation Co.


HA(L)-3 Seawolves
HC-7 Seadevils
DET-8 SeawolfRED-X'd

HMM-163 Ridge Runners

HMM-164 Yankee Tango

HMM-165 White Knights


HML-167 Warriors
HMM-261 Raging Bulls
HMM-262 Old Tigers

HMM-263 The Thunder Eagles>

HMH-361 Flying Tigers-
HMM-362 Ugly Angels

HMM-363 Lucky Red Lions

HMM-364 The Purple Foxes


HMM-365 The Magnificent Flying Circus.
HML-367 Huey Slicks/Cobras

HMA-369 Pistol Pete
HMH-463 Pennant Day, Dimmer, Pineapple

VMO-2 The Angry Two>

White Hat Airlines Aircofat